dm consolidates its focus on sustainability with new Planet Pure bio-detergents on tap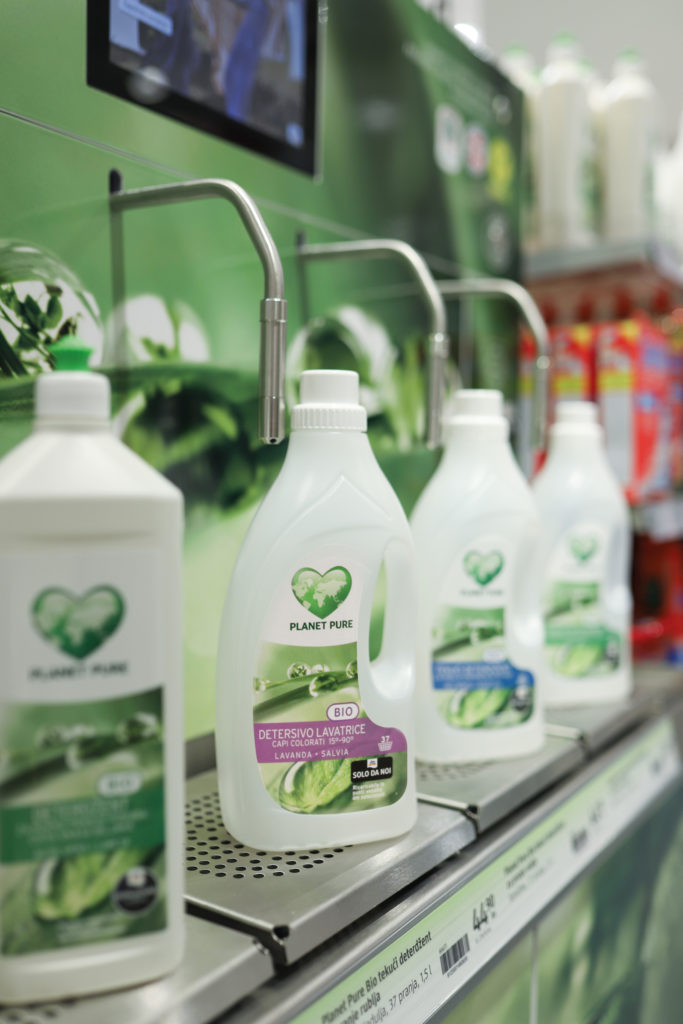 Less plastic, more nature – dm Italia is introducing new Planet Pure certified organic detergents on tap in three of its stores, a further step toward sustainability and environmental protection, which has always been a cornerstone of the company's philosophy.
Since September, it has been possible to purchase, in the three dm stores, the first empty Planet Pure bottle, with a capacity of 1 liter for dishwasher detergent and 1.5 liters for laundry detergent (equivalent to 37 washes), and reuse it almost indefinitely for subsequent refills, limiting not only the expense but also the production of plastic waste.
Planet Pure refills are available in these versions:
-bio-detergent for washing machine – for colored clothes with lavender and sage, 37 wash, 1.5 l
-bio-detergent for washing machine – universal Sensitive unscented, 37 wash, 1.5 l
-bio-detergent for washing machine – universal with aloe vera, 37wash, 1.5l
-bio-detergent for dishes – aloe vera & lime 1l
Planet Pure bio-detergents on tap feature several advantages: the use of a refillable bottle made of bioplastic derived from sugarcane, which greatly decreases plastic consumption; mixtures composed of 100 percent plant-based raw materials that are completely biodegradable in less than 30 days; and formulations that are free of sulfates, palm oil and microplastics, totally vegan, not tested on animals and suitable for sensitive skin.
"Conscious purchasing and attention to environmental sustainability are key issues for us at dm, but also for our customers who choose us every day. We are happy to now be able to offer detergents on tap in Italy as well, taking a further step toward environmental sustainability. We hope that this initiative will be enthusiastically received and that we will be able to extend the service to other stores in the territory," says Hubert Krabichler, CEO of dm Italia.
Refilling detergents is super easy and will make the good habit of reuse a routine gesture, making the customer feel part of a great common project. Simply scan the barcode on the Planet Pure bottle appropriate for the detergent you wish to purchase, place it under the faucet, wait for it to be filled, apply the sticky receipt and pay at checkout.
The outlets where you can currently find detergents on tap are:
dm Milan, Corso Sempione 65A
dm Merano, Corso della Libertà 184 c/o c.c Stadt Centrum
dm Bolzano, Via Galileo Galilei 20 c/o c.c Twenty
The "green" strengths of dm
For dm drogerie markt, environmental sustainability has always been a concrete commitment. Indeed, within its rich assortment, which includes 27 own brands, an increasing number of organic and ecological products are offered, such as alverde natural cosmetics, dmBio organic groceries, nature products, personal and home care references made from recycled packaging, renewable raw materials and organic ingredients, or Recycling products, made from up to 100 percent recycled material.
Another testament to dm's commitment to sustainability is the zero environmental impact* Pro Climate line of personal and home care products. These products are developed to achieve the best possible ecological balance; the remaining and unavoidable effects on the environment are offset through renaturalization and redevelopment projects in degraded areas.
Wood cellulose fiber eco-shoppers have also been introduced into the assortment, made with wood from FSC-certified cultivation and produced entirely in Europe. Also in line with the company's philosophy, all stores are also powered by energy from renewable sources in partnership with Repower, have 100% LED lighting, and use air conditioner models with the highest energy efficiency.
Recharge instead of throw away: the new frontier of conscious consumption!
dm in pills
dm drogerie markt, founded in Germany in 1973, is now Europe's largest retail chain of personal and home care products, present in 14 countries with more than 3,800 stores, more than 66,000 employees and more than 12 billion euros in sales. After entering the Italian market in November 2017, dm's ambitious opening plan in Italy continues, with 71 stores in the territory to date.
The brand's philosophy is to offer a unique combination with specialized beauty and wellness offerings at an extremely low and competitive price, partly due to its private brands, which number 27 including Balea, Mivolis, and alverde. With the Pro Climate line, which has zero climate and environmental impact, the company wins the DNP (German Sustainability Award Design) in December 2021.