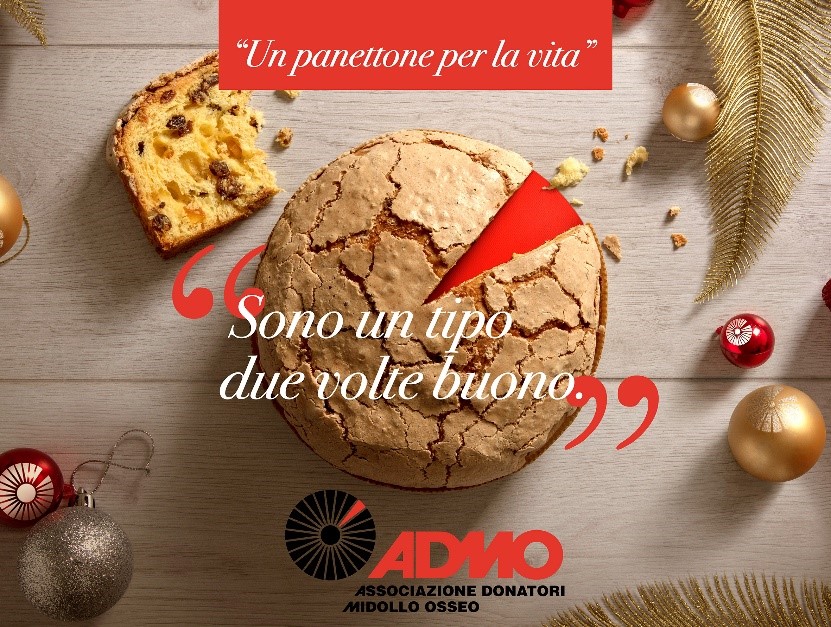 Regardless the times we're living, this year the initiative "A Panettone for Life", comes back again starting from November.
The panettone and pandoro ADMO are good twice: the initiative helps on spreading a message of solidarity and rasing funds for all the fundamental activities necessary to raise awareness and to boost the number of suscribers on the Donators (IBMDR) register.
ADMO, the bone marrow donor association deals with all the phases related to the donation of bone marrow: from information, to registration to the donor register, to finding people in case of compatibility, up to the actual donation.
The historical period we are going throug prevents volunteers from going down to the Italian main squares, that's why ADMO decided to find two alternative ways of selling:
In both cases, it will be possible to buy the panettoni with a minimum offer of 12 euros, receveing them directly at home or gifting them to a special person, or even donate them to support a charitable project in your region!
Youn can choose a panettone with candied fruit covered with hazelnut glaze, filled with chocolate or with pears and chocolate but also the classic pandoro. ma anche il classico pandoro. All enclosed in elegant packaging. "A Panettone for Life" has made it possible in recent years to inform people about donation, significantly increasing the numbers of Italian donors registered in the donor register. Unluckily the number is not enough, because in case of an unrelated donor, compatibility with the sick person awaiting transplant occurs 1 case out of 100'000, and particularly in this historic moment, the association is going through an emergency nevers seen in the last 20 years.
All these activities are carried out thanks to self-financing and donations, costs which are incurred due to the generosity of all.
To know the list of solidarity projects in each region www.admo.it/progetti-solidali/
ALL INFOS ON www.admo.it