Pitti Uomo 104 – ARMY COURTYARD / 1 – 13/16 June 2023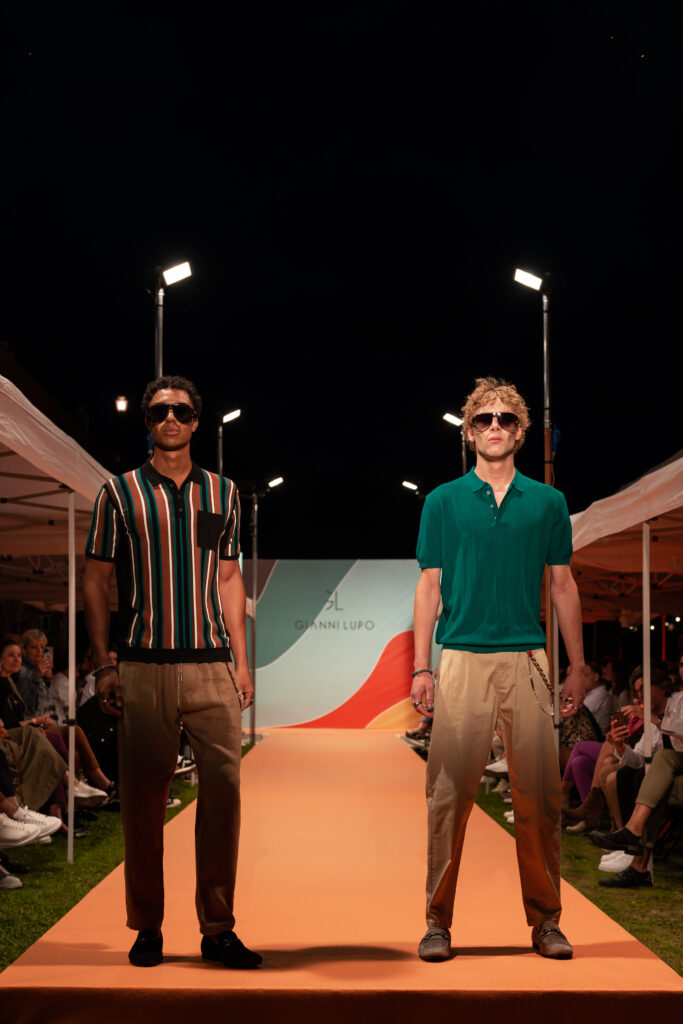 GIANNI LUPO will make its debut at the 104* Pitti Immagine Uomo with its spring summer 2024 collection. The Tuscan brand was born in 2013 from the idea of Gianni Jia, thinking of a style able to dress men in all moments of their day with a core product oriented on jeans, a must-have item for the wardrobe. The brand, which is well established nationally and internationally, boasts 10 years of experience in the clothing sector. Today GIANNI LUPO is present in Europe with over 700 retailers and a flagship store in Florence.

Style is touched, worn, lived, it becomes a way of being and expressing one's uniqueness in GIANNI LUPO's spring summer 2024 collection, which has updated its heritage by introducing new lines, but still remaining faithful to its roots.

The 60s/70s details link the collection to the past, colours and motifs have been reworked in a modern key, creating a vintage elegance that is fresh and timeless. The nuances start from neutral tones such as cream and beige to bolder colours such as burgundy, army green and tobacco. Shirts with flowers and micro-prints, woven pullovers in intense colours, soft trousers, tartan and jacquard suits, games of shapes and geometries, of triangles and stripes.
The garments are linked to clear Hyper Bright summer-inspired influences, bright and bold, with looks featuring cleaner lines but with brighter colours, such as lime, orange, fuchsia, lilac with a touch of black contrasting with milky colours.

The Tuscan brand also has to its credit a collaboration with REPREVE, a leading company in the production of sustainable fibres obtained from plastic bottles, producing a recycled and recyclable cotton and elastane (hence eco-nylon) blend denim. The production of this patented fibre diverts approximately 250,000 bottles per hour from the waste stream; to date, REPREVE counts more than 38 billion recycled plastic bottles on its site!
The main collection will not stand alone. With the aim of continuing to innovate its stylistic proposal with the idea of experimenting with new materials and designs to create a basic yet chic look, Double Label is born. Oversized volumes, cropped trousers with pleats, shorts and monochrome suits in both fleece and knitwear emerge in the collection, using quality fabrics for a versatile look that reflects the dynamic lifestyle of today's man. Intuitive, light, pleasant-to-wear garments with an urban design, inspired by everyday wear. A defined colour palette of neutral, sophisticated colours and a hint of blue for an essential and contemporary aesthetic.

GIANNI LUPO lightly embraces the tastes of the younger audience, while simultaneously winking at the needs of the more mature, or simply more classic man.