The new 'Modern Heritage' collection offers cool and at the same time versatile clothes
It offers a variety of ready-to-wear styles suitable for all times of the day.
Seasonal colours with four trend themes: Logomania, Iconics, Denim & Leather, Party
More sustainable key fabrics such as wool, cashmere, real leather, lace and velvet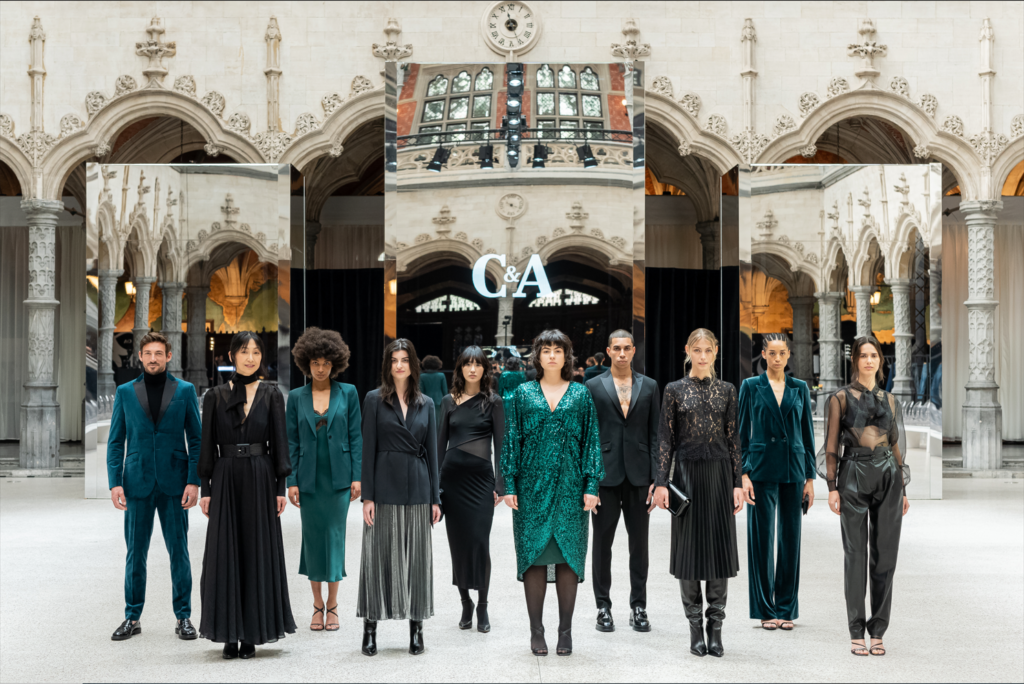 C&A launched its autumn-winter 2023 'Modern Heritage' collection, presenting it to the European press, media partners and influencers.
The event took place in Antwerp's 'Handelsbeurs', the world's first freight exchange specially set up for the occasion, combining and contrasting tradition with futuristic installations to reflect the essence of C&A's rich history – since 1841 – and its restyling. From September 2022, C&A aims to democratise fashion, to think ahead of consumer needs and to become even more modern and cool, while offering quality, long-lasting, high value, affordable garments for everyday use.
C&A's designers have developed a collection based on trends such as Logomania and Iconics, reinventing essential garments and timeless cuts, ready-to-wear styles for the office, city walks or outdoor activities that offer a great mix of practicality and comfort.
To give voice to one of C&A's core values, "we love togetherness", and to create a deeper connection with the consumer, in the Logomania print the "&" is featured in the C&A logo.
"We have an incredible 182-year legacy.
What will characterise the next 182 years?
We will remain true to our purpose, we will continue to inspire our consumers, to look, feel and do good! We put the customer at the centre of everything we do. The Logomania collection creates a deeper bond between us as a company and our loyal shoppers," says Mandy Hendriks, Head of Women's Creative Sector.
The colour palette ranges from earthy tones, reminiscent of nature, to neutrals; very versatile urban greys and elegant blacks to pop colours such as green, saturated purple and ocean green.
Timeless classics such as leather and cashmere were created with a view to expressing luxury and style. Formal wear received a casual touch, slightly loosening the codes of haute couture to show the fluidity between two worlds – versatility and elegance – displayed in sophisticated denim garments.
To kick off the festive season, C&A highlights transparencies, sequins, lace and lace as symbols of increasingly feminine clothing. These models fit every shape without having to compromise.