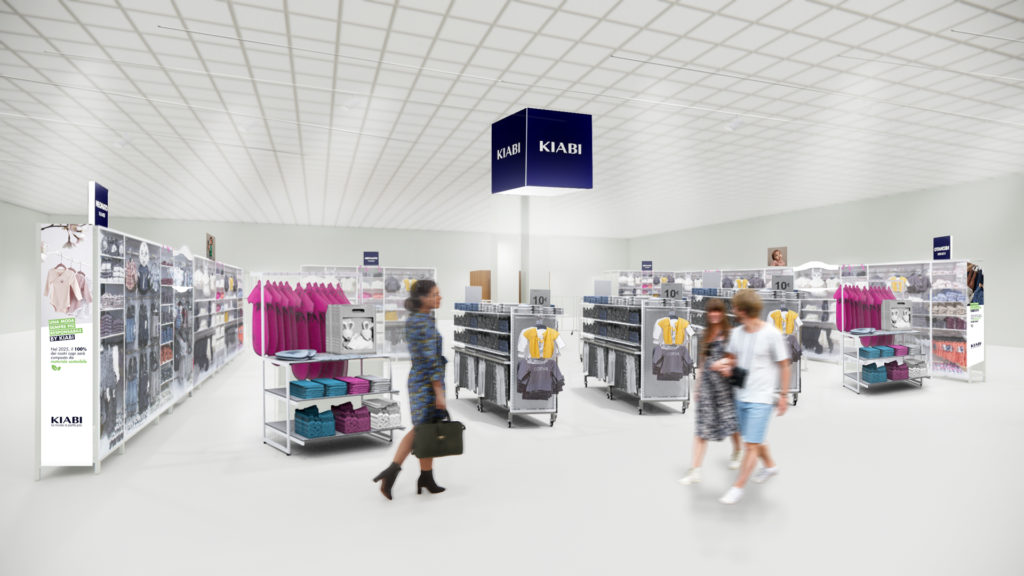 "I am very pleased to launch this partnership with COOP, it is a retail giant with whom we share several values, such as sustainability and consumer care. As COOP, we are committed to offering customers products with an excellent quality/price relationship and we want to be an ally for Italian families in protecting their purchasing power. With this partnership, consumers will in fact have the opportunity to find our garments, particularly those referring to baby and kids, in other physical stores. The launch of these first 3 corners will be a test, if successful, the model will be demultiplied in other COOP Hypermarkets."
commented Giuseppe De Gregorio, Commercial Director KIABI Italy.
KIABI launched its new "shop in shop" model in collaboration with COOP from March 1 at Le Terrazze Shopping Mall in La Spezia, presenting its baby product offering to customers within a sales area of 63m2. This was followed on March 15 by the opening in Biella, at the Gli Orsi Shopping Mall, of 167m2 dedicated to baby and kids, and finally, on April 1 in Genoa at the Gli Aquiloni Shopping Mall, in a 130m2 display, the maternity, nursery and baby lines are on sale.
The collaboration between the two brands is based on a franchise-inspired model; in choosing a partner, KIABI considered both the values common to COOP but also the brand image setup. The main goal of the French small-price fashion brand is to reach more and more Italians by offering them a quality shopping experience, starting with areas where there are no KIABI stores yet. Facilitating mothers and families in their shopping journey, recruiting new customers, implementing the baby, kids segments and pushing on brand awareness were important drivers in the realization of the project, which we find at the basis of the achievement of this launch.
For COOP, the choice of a specialized operator such as KIABI is part of a precise strategy of relaunching segments of offerings such as clothing and specifically children's clothing. The starting point is similar, that is, the combination of quality-convenience to which is added an unquestionable specialization and competence of this business partner.
KIABI IN PILLS
In 1978, in northern France, KIABI revolutionized fast fashion through the concept of fashion at small prices for the whole family, creating a wide and versatile offer designed for all budgets, styles, and morphologies.
40 years later, the small French brand part of the AFM (Association Familiar Mulliez) group that also owns Decathlon, Auchan and Leroy Merlin, among others, is now an international group present in 19 countries, with more than 25 million customers and 1.7 billion euros in sales, reached in 2020.