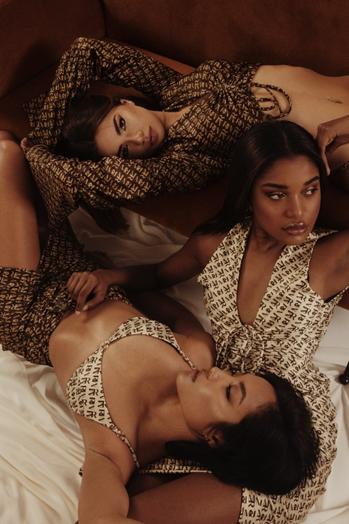 Maison Roèl is the beachwear brand born from the resourcefulness and creativity of Eleonora Rocchini.
The talented Florentine influencer with a community of almost 1 million followers on IG, together with her team, continues to take her first steps into the world of entrepreneurship after the success of her first beachwear line and launches her second collection of swimwear and beach accessories, with the aim of enhancing women's independence and female empowerment totally made in Italy.
Maison Roèl is still dressing all women who want to feel beautiful, free and sensual no matter what size they wear.
The new SS2022 "The 90's heritage" collection is designed to evoke seduction and sophistication, dusting off prints and fabrics from the golden years but revised with a modern perspective.
With the brand's monogram fabric, costumes, crop tops as well as skirts and mini-dresses have been made that are perfect from morning to evening on summer days.
The heritage line blends in a perfect way with the new models created by the brand for this season; from the crochet top perfect for all shapes, or the mini-triangle with lacing on the hips, but also the one-shoulder suits with precious details and finally the high-waisted slip with a sash, all proposed in the most trendy color variants: brown, lilac, pink, orange but also bi-color and the animal patterns that can never be missed.
To make designs that enhance the female body without constricting it, high quality is a value. Special attention is also paid to sustainability, including in the collection some highlights in ECONYL, a synthetic fiber patented in Italy. It is a nylon thread regenerated from pre- and post-consumer waste materials, including fishing nets, carpet fluff, rigid tulle, platica bottles recovered from the ocean, etc., which have now reached the end of their life cycle.
In particular, plastic materials left on the bottom of the oceans are one of the main causes of pollution on our planet, while abandoned fishing nets not only contaminate the environment but also cause thousands of casualties among various animal species that become entangled. Instead of being disposed of in landfills, they are recovered and, through complex physical-chemical breakdown processes, regenerated in the form of fabric.
This is characterized by a softness reminiscent of the natural softness of sea sponges, with a three-dimensional effect. Garments made with it are apt to be long-lasting, enveloping shapes to perfection.
Patterns are available online in regular and curvy sizes up to size XL, and the products are 100% 'Made in Italy,' crafted with care and skill by the expert hands of our local seamstresses and artisans.
A Maison Roel bikini is a gesture of love for the sea and oneself.