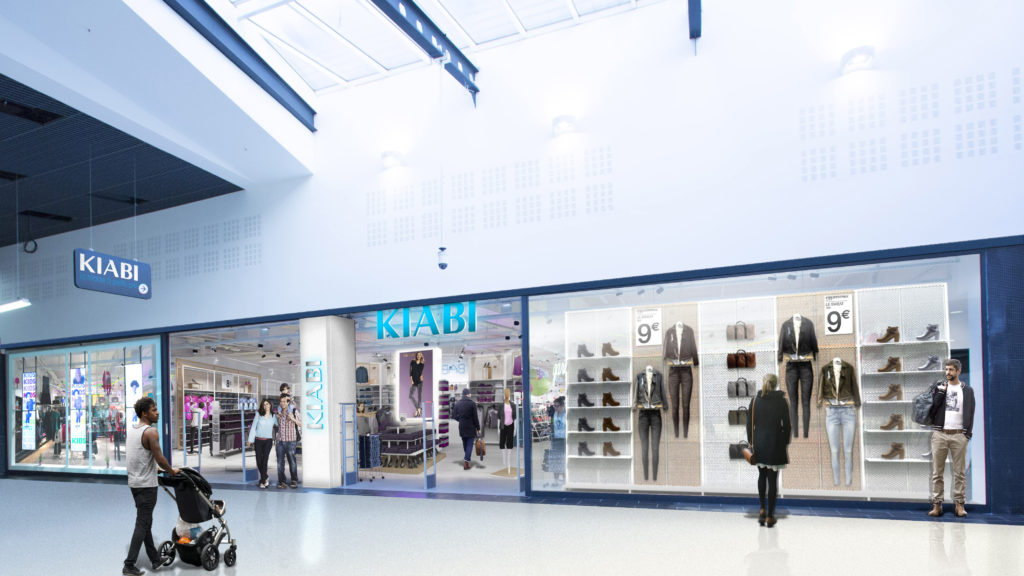 In 1978, in North France, KIABI revolutionizes fast fashion through the idea of fashion at little prices for the whole family, producing a wide and versatile offer , thought for all budgets, styles and shapes.
40 years later, the small french brand, part of AFM (Familiar Association Mulliez) owner of Decathlon, Auchan and Leroy Merlin, is now and international group present in 17 countries, with more than 25 million di customers and 2 billion euro sales, achieved in 2019.
In 1996 KIABI lands in the italian market with the opening of the first store in Milan. Today the brand boasts 33 stores throughout the country and represents the leading e-retailer in the online clothing market in terms of sales volume. KIABI.IT ranks as the third best e-commerce site in Italy, in the single-brand clothing category. The "E-commerce, 500 best online shops in Italy"ranking was published in Corriere della Sera and produced by l'Economia con Statista in September 2020.
KIABI aims at strengthening its position not only in Italy, but worldwide. The expansion of the retail network is confirmed as one of the growth drivers of the French Group: in 2019 it has 505 stores in 17 countries in which its is present. This year, the fashion brand at little prices has opened its doors to Franchising with stock management on consignment , investing in this business model. The expansion of the stores will be focused on strategic locations in the provincial capitals, preferably located in a primary shopping center, with sales areas of at least 1000m2. The development plan will lead to the opening of 15 affiliated stores affiliati in the next 3 years. The franchising model has been launched also in Spain, Belgium and an acceleration of the development plan in Portugal is underway.
Cross-canality is one of points in favour of the brand. The sinergy of physical stores and e-commerce is a winning one, so much so that today the brand boasts more than 200 million visits per year on KIABI.COM.
Greater attention has also been paid to textile disposal and recycling, a worldwide problem of enormous impact, focusing on the Second Hand project. KIABI France has launched dato il via a 2 customization workshops to adapt and extend the life of the garnments at the Cormontreuil and Merignac stores; it also launched 6 second hand corners in the stores themselves.
KIABI has great objectives on reducing its impact on the environment. By 2025 the collections will be 100% eco-sustanaible and the economic model will be circular. The compnay supports circular eocnomy and draws its attention on riutilizing, adjusting, renewing and recycling existing materials and products, transforming "waste" into resources; the aim is to reach 100% sustainable materials used for the production of garnments and textile accessories. A focus on logistics and transport is also underway to reduce the carbon footprint on the environment. 22% of KIABI's 2020 purchases were made with more sustainable materials. 1 million down jackets/coats were produced in recycled polyester from used plastic bottles, 2,5 millions denim trousers treated with the eco-wash method.
And 37 million t-shirts and 2,8 million baby bodysuits in cotton fibers from organic and integrated agriculture. In addition one truck tour of the world per week was saved thanks to the new South warehouse for the Southern European area.
KIABI wants to be the protagonist of a changing world, aiming to become the favourite company by its own collaborators: more than 80% said they are proud to belong to this organization. The Company vision, which will be conveyed shortly, was co-built with the employees.
The story of KIABI
1978 Ideation of the concept e and opening of the 1° store in Roncq (near Lille)
1988 Estabilishment of employee share ownership
1993 1° store in Spain, in Valencia
1996 1° store in Italy, in Milan
2000 Launch of KIABI.COM
2005 1° store in franchising
2008 1° store in Russia
2012 Opening of the 1° store in Marocco, arrives in Belgium and Netherlands as pure player pure
2013 Creation of Etixia, KIABI real estate company
Launch of new concept store KIABI ONE ( Janus award for the Store concept
given by Institut Français du Design)
2014 KIABI wins the Great Place to Work award
KIABI launches KIABI KIDS concept and opens a storage area in Russia
2015 KIABI takes the field internationally
Opening of e-shop Kiabi.ru + 4 new countries welcome the brand:
Poland, Ivory Coast, Arabia Saudita, Tunisia.
2018 For the third time confirms its position in top 5 del Great Place to Work Italy
2019 launch of the project KIABI HUMAN
2020 KIABI is elected "favourite french brand"
Launch of new service "Click & Drive"


Data of KIABI GROUP
REVENUE 2 Mld €
More than 25 million customers worlwide
+2,4% growth
330 stores in France
133 stores abroad
463 total stores
42 years of experience in the fashion field
REVENUE 180 mln € in worldwide-web
226 million visits on kiabi.com
More than 5,8 million fans in social media
8.000 employees all over the world, 580 in Italy
200 employees in Style office, con runned by Alexander Pesty
Key changes in Italy
2009 Launch of e-commerce www.kiabi.it site and opening of the 10° italian store in San Mauro Torinese
2013 The first store with the KIABI ONE concept is inaugurated in Parma
2016 The first KIABI Free store opens at Arese, the 26th store in Italy
2018 New CEO Italy: Marco D'Intino
2019 First store in the city center: Napoli in Piazza Giuseppe Garibaldi, reaching 33 stores in Italy.
2020 Launch of the franchising model.