---
In 2017, KIABI undertook a five-year development plan on various fronts with the aim of establishing itself also as a social and sustainable enterprise, promoting actions to reduce the environmental footprint of facilities, transport and products.
In 2019 KIABI signed an agreement with BCI*(Better Cotton Initiative) to promote the sustainable cotton dimension and thus multiplied the volume of eco-designed products by 8 compared to 2018. Within the next 4 years the sustainable offer will represent 70% of the collections.
The noble goal is to reach 100% by 2030 and replace all standard cotton with more sustainable cotton.
For KIABI, exploring the infinite possibilities offered by sustainable fashion has become a business concept, a challenge, an opportunity to overcome its achievements season after season.
Thus, for the 100% ECO-SUSTAINABLE collection the French giant will not use chemicals and will reduce the use of water for cotton processing, thus protecting the environment and health.
For the 2020 collections, 100% of men's and women's jeans will be laser washed:
1 jeans = 10 litres of water saved
The brand is also working to reduce its carbon footprint through, among other things, delivery optimization. This will represent emissions savings of – 10,000 km per day and -1.2 world tours per week.
All the garments in this collection are 100% organic cotton, made with fibres from organic farming, minimising the impact on the environment. This cotton is grown without GMO seeds and with natural compounds that replace chemical fertilizers and pesticides.
Pastel colours, writings and prints reminiscent of a positive mood, fun and carefree holidays, tie and dye t-shirts and coordinated mom and girl looks will be the protagonists of the new ECO KIABI collection.
All items will be available in stores and online, at a starting price of 4 euros, from April 24th to May 14th.
Not to be missed for "green" fanatics.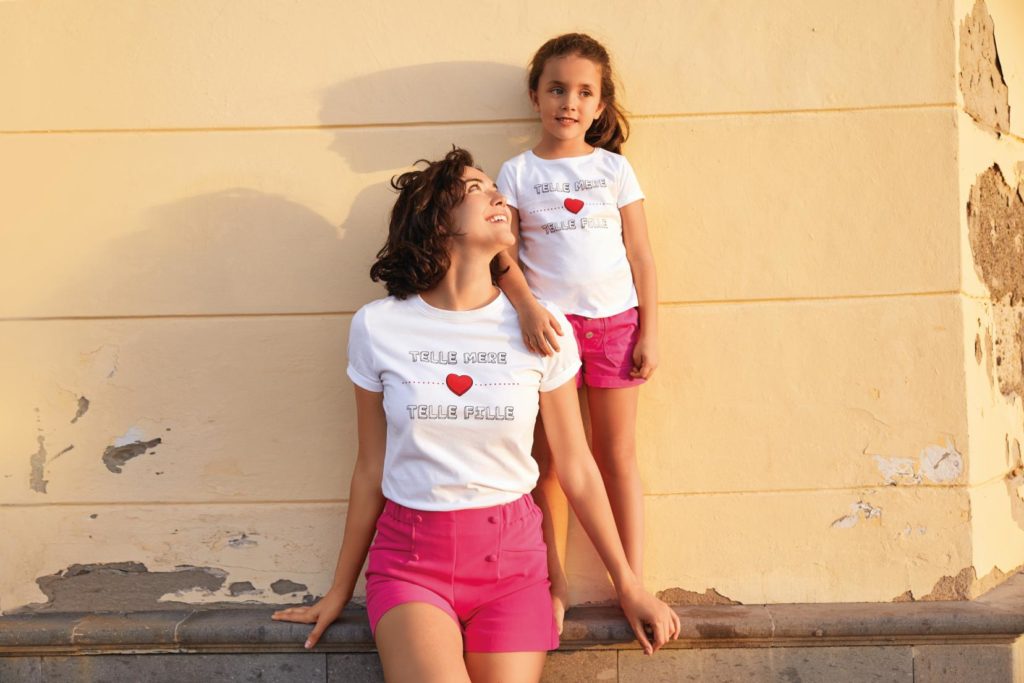 ---
KIABI IN PILLS: Created in 1978 in the north of France, KIABI revolutionized ready-to-wear by launching a fashion concept at small prices for the whole family, which until then had never been seen before. Relying on a network of over 509 stores worldwide, KIABI has a turnover of 2 billion euros (2019). Simple symbol, universal and happy to live, KIABI fashion offers collections designed in France by a team of 56 in-house designers. No. 1 French ready-to-wear, KIABI has more than 10,000 Kiabers of 60 nationalities.