THEY OPEN THEIR CLOSETS FOR AN EXCEPTIONAL SALE IN FAVOUR OF THE CHILDREN OF THE CENTRE MARIA LETIZIA VERGA PAEDIATRIC ONCOHAEMATOLOGY OF SAN GERARDO HOSPITAL IN MONZA
From 23 to 25 November, from 10.00 to 19.00
c/o Rue des Mille POP – UP space
Via Borgonuovo, 1 (Milan)
---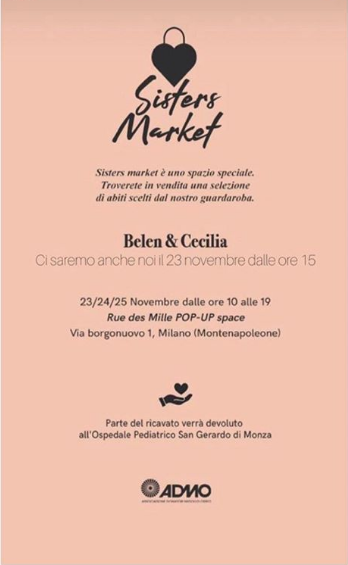 ---
A special space where you can buy a selection of clothes from the wardrobe of Belen and Cecilia Rodriguez and, with the occasion, make a gift, in view of next Christmas, to the children of the Centre Maria Letizia Verga of pediatric oncohaematology at the San Gerardo Hospital in Monza.
It is Sisters Market, the stage appointment from Saturday 23rd to Monday 25th November, from 10 a.m. to 7 p.m., at Rue des Mille POP – UP space (Via Borgonuovo, 1 – Milan) designed by the Rodriguez sisters in collaboration with ADMO – Associazione Donatori Midollo Osseo.
During the three opening days of Sisters Market, which on Saturday will also see the presence of Belen and Cecilia from 3.00 p.m., clothing and accessories chosen personally by the Rodriguez sisters for this unique occasion will be on sale.
The operation stems from the desire to support an important reality such as the Maria Letizia Verga Centre, which includes the Paediatric Oncohaematology Centre and the Bone Marrow Transplant Centre, of the MBBM Foundation/Hospital San Gerardo in Monza, which for many years has been a national reference point for the treatment of leukaemia and hemopathies of children and adolescents.
---
---
ADMO – Associazione Donatori Midollo Osseo (https://admo.it), which today counts over 450,000 donors, was founded in 1990 with the main purpose of informing and raising awareness about the possibility of fighting, through bone marrow donation and transplantation, leukaemia, lymphoma, myeloma and other blood neoplasms.